A facility designed to accommodate a wide variety of needs for intellectual exchange, ranging from international conferences to symposiums.
This multi-purpose hall can be used for all types of conferences and meetings, symposiums, lectures, concerts and theatrical performances. The hall can also be used for roundtable conferences by storing away the lower-level seats. It is furnished with the latest equipment, including a simultaneous interpretation system capable of handling six languages.
International Conference Hall Main Facilities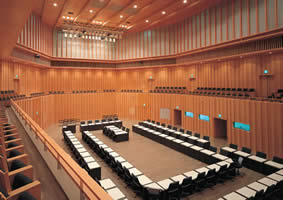 Round-table layout
Area: 571 sq.m

Ceiling height: 13 m
Number of seats:
479 (279 seats on the lower level, 200 seats on the upper level)
*The lower-level seats are movable, the upper-level seats are fixed.
Theater-style:
279 seats on the lower level, 139 seats on the upper level
Round-table:
80 seats on the lower level, 200 seats on the upper level (for audiences)
Visual equipment:
410-inch screen, projector, VCR, DVD, OHC, fixed camera
Audio equipment:
microphones, CD, MD, DAT, cassette deck
Simultaneous interpreting facilities:
6 booths, 6 channels
wireless infra-red receivers

Other facilities:
Internet connection, CCTV System (linked to Information Board, Media Hall), podium, side table, Sponsor Office, annexes, grand piano
*The seats on the lower level can be stored under floor. The conference hall users can vary the number of seats, or use none at all.
*The standard setting for seats on the lower level is in theater layout. If conference hall users wish to arrange seats differently, they can do so but should make sure to return them to the initial layout.
---
International Conference Hall Floor Plan