Dormitory of Osaka Japanese Language Education Center
This dormitory is intended for students, who are enrolled in Osaka Japanese Language Education Center's Preparatory Course.
The purpose of providing a dormitory is not only for the school life support but is also for promotion of cultural and international exchanges among the students, through fun and disciplined community life, and local people who live in the area.
Outline
Location
8-3-13 Uehonmachi, Tennoji-ku, Osaka City, Osaka 543-0001 (on school property)
Tel 06-6774-0033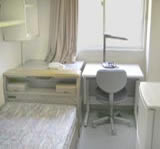 Private room
---
(7 minutes walk from "Shitennoujimae Yuhigaoka" Station of Tanimachi Line. )
Structure
Reinforced concrete structure (4 stories above ground)
Rooms
54 single rooms (9.6 square meters)
Equipments
-Overhead light, desk, chair, storage chest, bed, bedclothes (leased with charge)
-Telephone (receiving calls only) , air conditioner, desk lamp, refrigerator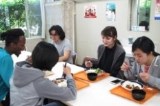 Cafeteria
---
Commmon facilities
-Common kitchen, laundry rooms (coin-operated), shower rooms (coin-operated), lavatories (Above 3 facilities are separated by genders)
-Cafeteria (use with school), lounge
Support for daily life
-Resident assistants (RAs):Japanese RAs live in the dormitory and give students advice on their daily life in Japan.
-Counselor (on mental health): A clinical psychologist visits the school twice a month.
-Doctor (on physical health):An industrial physician visits the school once a month.
Payment
-Admission(20,000 yen, in one payment), Deposit (30,000 yen, in one payment, refundable)
-Rent(26,000 yen per month), Wi-fi usage fee (2,000 yen per month), Bedclothes lease & cleaning( per month), Electric charge(actual cost)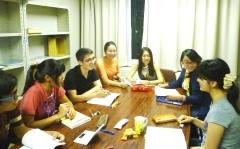 Exchange with a resident assistant
---
Application
Eligibility
-An applicant must be enrolled at Osaka Japanese Language Education Center under Student Visa.
-An applicant must be well-disciplined and cooperative.
-An applicant must be interested in and cooperative with international exchanges.
-An applicant must be industrial and maintain good grades (attendance as well)
Key Rules
-Curfew: Doors open at 6:30 AM and close at 11:30 PM.(From 11:30 PM to 6:30 AM, entrance and exit are not permitted)
-When you stay out of the House you must get permission from the House in advance.
-Smoking is prohibited in the entire premises of school and dormitory.
About Osaka Japanese Language Education Center House
How to Apply
The office will inform the procedure to the persons admitted to our preparatory course and with the intention to be enrolled in our dormitory.
*

Please notice that not all persons will be enrolled due to the limited number of the dormitory rooms.