The Japanese Language Education Centers are actively in engaged in collecting information on universities and other institutions to which students may seek admission as well as holding research conferences in cooperation with Japanese language education organizations and higher education institutions, as well as in the development of textbooks and teaching materials of Japanese language and core subjests.
Development of Textbooks and Teaching Materials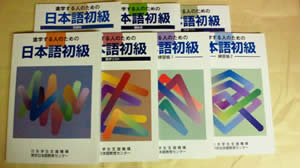 Original textbooks of basic Japanese
The Tokyo Japanese Language Education Center are actively in engaged in the development of original textbooks and teaching materials
Research Conferences with Japanese Language Education Related Teachers and Educators at University Admission Organizations for Exchange Students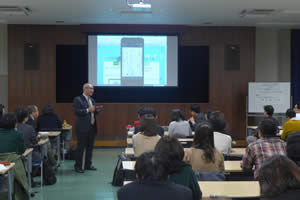 Research Conference
The Tokyo and Osaka Japanese Language Education Centers hold annual research conferences in order to improve the quality of Japanese language preparatory education for foreign exchange students and for the detailed exchange of information and opinions between those in charge of exchange students at university admission education organizations and staff at Japanese language education related organizations
Training Program for Japanese Language Teachers of Foreign Nationals
・Training Program for Japanese Language Teachers of Foreign Nationals
Based on our operation plan, in order to contribute development of human resources of Japanese language education, we offer opportunities and teaching materials to Japanese language teachers of foreign nationals teaching in their respective countries. We invite these teachers to our institution and offer training and exchange ideas with us to enhance their respective abilities which will contribute to further promotion and development of Japanese language education abroad.
Bulletin of JASSO Japanese Language Education Centers(Available in Japanese)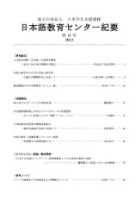 Bulletin
---