The Tokyo and Osaka Japanese Language Education Centers hold annual research conferences in cooperation with Japanese language education organizations and higher education institutions.

Implementation Summary
The Tokyo Japanese Language Education Center holds an annual research conference in order to improve the quality of Japanese language preparatory education for foreign students and for the detailed exchange of information and opinions between those in charge of international students at university admission education organizations and staff at Japanese language education related organizations. The theme for the 2014 academic year was "Collaborative Learning Using ICT in Japanese Language Education."


Date and time: Saturday, February 7, 2015 1:00 PM - 3:00 PM
Location: Student Hall, Tokyo Japanese Language Education Center
Theme: "Collaborative Learning Using ICT in Japanese Language Education"
Lecturer: Yasuhiro Namba, Associate Professor at the Center for International Education and Exchange, Osaka University
Participants: 82 (from a total of 37 organizations)

Implementation Report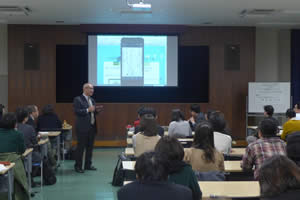 Research Conference
Implementation report 2014
First, a report was given from the Tokyo Japanese Language Education Center on the use of ICT in classes at the Center for collaborative learning for students from Arabic-speaking countries such as those in the Middle East.
This was followed by a talk by Professor Yasuhiro Namba from Osaka University on collaborative learning at the university. Osaka University is engaged in cutting-edge efforts in this regard.
The lecture for this conference introduced methods for creating poster sessions and promotional videos, as well as methods for students to actively work together to create pieces of work. The lecture also introduced assistive tools effective in enhancing kanji character learning, reading, and writing skills in an easy to understand manner, which highly motivated many participants.
The group discussions that followed consisted of active discussions among each group, with each group giving a report at the end to present the details of their discussions. All of the participants were able to share information and issues, resulting in an extremely meaningful conference.

Program
12:30 PM - 1:00 PM
Reception
1:00 PM - 2:20 PM
Opening speech
Masayuki Sekiguchi
Director, Japan Student Services Organization Tokyo Japanese Language Education Center

Report: "Collaborative Learning Using ICT in Japanese Language Education."
Shingo Takeda
Teacher, Japan Student Services Organization Tokyo Japanese Language Education Center

Lecture: " Collaborative Learning Using ICT at Osaka University"
Yasuhiro Namba
Associate Professor at the Center for International Education and Exchange,
Osaka University
2:20 PM - 2:40 PM
Group discussions among participants
2:40 PM - 3:00 PM
Reporting and sharing of group discussion details